OUR HISTORY
SkyTaxi was established in year 2000. We are the leader in on demand operations in Poland. Our home base is Wroclaw airport (WRO). Nowadays we operate with aeroplane SAAB 340A. Our pilots, cabin crew and maintenance staff are well trained and experienced. SkyTaxi has got required certificates to operate and provide air services accordingly to: JAR-OPS1, PART-M and PART-145. The first place where our business was run was at a grass airfield near Opole in Polska Nowa Wies (EPOP). This was the first location of our Piper Seneca II plane. After a few weeks of our activity we transported our client in the first commercial flight to Warsaw. Then we changed the location of our business just before the winter 2000/2001. We moved to Wroclaw Strachowice airport (EPWR/WRO).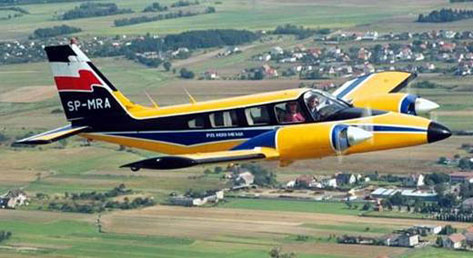 We have been operating there till now. Over the period between 2000 and 2001 we flew to many destinations all over Europe. By the end of the year 2001 we made a decision to enlarge our fleet in coming future. We have started to look for faster, bigger and more comfortable airplane. The enlargement of our fleet will lead to increase of our personnel. We have taken on new pilots recently. In the 4th quarter of 2002 we launched commercial flights with our Cessna T303 Crusader. We flew to Dortmund with our client for the first time in 2003using a Cessna T303 plane. Our passengers was very satisfied.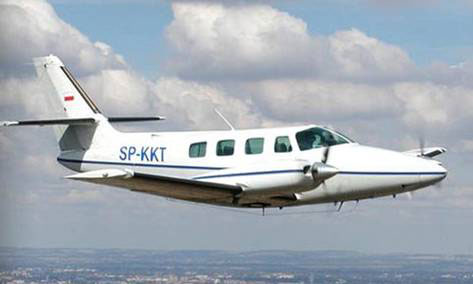 Since the beginning of 2003 we been running intensive flights with our aircraft. On 16th of July 2004, as a sixth operator to be established in Poland we have got the required JAR-OPS1 certificate. The Polish Civil Aviation Office has confirmed that our service conforms to the EU aviation operation requirements.In the middle of 2005 we made a decision to purchase another aircraft, which is bigger. In order to meet market requirements, the most appropriate plane would be a 20-30 seater with payload of about 2500 kg. Of the several types of aircraft to choose, we decided on the SAAB 340. In this time we have terminated the contract for using Cessna T303. In November 2005 our SAAB 340A QC came from Switzerland to Wroclaw. After all the registration procedures our new aircraft was ready to fly. In this time SkyTaxi s staff has been enlarged by new pilots and flight attendants. We launched new service beside air taxi on demand we serve flights as a small charter airline.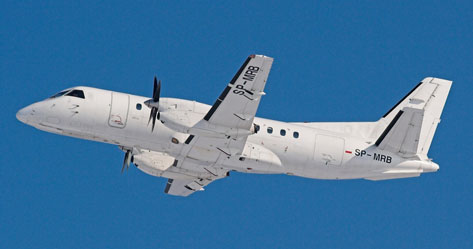 Our inauguration flight took place in December 2005. We went to Moscow with guests invited by a Polish company. It was a special trip for the occasion of the opening ceremony of a new factory in Vladimir. From January we slowly increased the number of flights carried out with the use of the SAAB aircraft, while also maintaining the same number of flights with the use of our Piper Seneca aircraft as before. The first few months of 2006 was a time of reorganization with regard to our way of operations, particularly in the area of flight planning and maintenance. The month of June 2006 was in the middle of the peak season for SkyTaxi company. This was particularly due to the World Cup in Germany. After the summer, we carried out fewer flights, which however , dramatically increased in September and October. For instance, in September we ran a flight for F1 racing in Monza (Italy). We also ran a series of flights to Elba Island. The month of October involved a lot of cargo transportation, apart from a few normal passenger trips. In November we ran tests and maintenance on our SAAB aircraft in Sweden, after first year in SkyTaxi fleet. The month of December was a successful one for us, as indeed was the whole year of 2006.